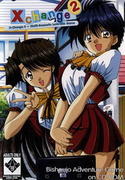 * Voice: Japanese
* Text: Englisch
* Genre: Sex-change, High School, Female/Male Protagonist
* Filehoster: uploaded.net
* Size: 403,32/425,39 MB 2 Parts
X Change 1
You are Takuya Aihara, an average junior college student with one character flaw: you're a bit of a weakling. No matter how hard you try, it seems that all the girls around you are constantly pushing you around: your teasing step-sister Natsumi, the genius president of your chemistry club Mami, but especially Asuka, your beautiful childhood friend. No matter how hard you try, you just can't assert yourself.
One fateful day, while cleaning some shelves in the chemistry room, you spill a mysterious chemical on yourself. The next thing you know, you've been transformed into a girl! And so begins this hilarious erotic adventure in which poor Takuya gets some very interesting lessons in anatomy and sex education!
As a woman, Takuya discovers a new world of experiences, some welcome and others not. Can Takuya find a way back to normal, while avoiding the many temptations that come with his new female body? Can he find a way to express his feelings for Asuka, without hurting another who loves him?
X Change 2
In X-Change 2, you once again take on the role of Takuya Aihara, the unlucky chemistry student at Miyanomori Private School, who has a tendency to get caught in bizarre chemistry accidents that cause you many problems. When a strange chemical turned you into a girl last year, you had a bizarre string of experiences as you learned "how the other half lived." Now, one year later, you're enjoying your school life with Asuka, your steady girlfriend. But unhappy days are around the corner, as chemistry club member Chisato uses you as a guinea pig for a new experiment, which changes you into a girl once again!
As a girl, you find you're much more popular than before, but with practically everyone around you (both male and female) yearning to have sex with you, it can all get to be too much.
This latest X-Change adventure features the old familiar faces, as well as many new characters and erotic plot lines. The shy boy Kouji, whose virginity you took last year on the roof of the school, bides his time waiting for his chance. Then there's Mr. Sano, the teacher known for his interest in his female students, and he's got his eyes set on you. What will you do when you encounter Maiko-chan, a girl whose confusion about men has lead her to prefer girls? What about the shy Megumi, who confesses that she's in love with your male self? And while all this is going on, you're trying to keep your tenuous relationship with Asuka intact, which isn't easy, to say the least. The biggest danger is that the changes to your body will become permanent if you don't change back soon -- but how can you find a way to become male again?
X Change 1
http://ul.to/bnwwjyyd
X Change 2
http://ul.to/dqw5gcpb